Latest Blog Articles
Jeremiah Pierucci
Principal Software Engineer
Jeff Skjonsby
Senior Software Engineer
Devops
A significant piece of our Alpine Platform is thedeployment service we call Sherpa. It's capable of deploying to both on premise and AWS with a blue-greendeployment strategy. The cloud is particula...
Nate Tade
Senior Software Engineer
Cloud
As we began moving apps up into AWS we were challenged by the security team to "harden" the AMI used for our ec2 instances, we were already thinking of using HashiCorp Terraform for infra as code, ...
Jeff Skjonsby
Senior Software Engineer
Open Source
Creating projects from scratch can be a significant chore. In order to simplify it tools such asthe Maven Archetype plugin can be used to generate a project stub from a template. At REI we've used ...
John Carlile
Principal Software Engineer
Culture
Over the past few years we have been working to breakup our monolithic application into microservices. This has give...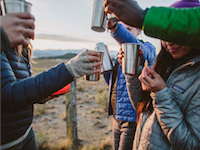 See All Articles
Featured Open Source Projects
FEBS is an extensible front-end build system with a simple command-line interface used to build front-end assets.
A simple project templating tool.
A tool for sampling stats/metrics from various sources and writing them to a stats collection tool like Graphite.